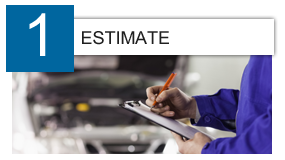 Initial Estimate:
When you come to Rutherford Auto Body your vehicle is inspected by one of our trained damage appraisers. You will be provided with a detailed copy of the estimate / preliminary damage report.
Disassembly:
A skilled technician will disassemble the damaged areas of your vehicle. During this inspection there may be hidden damage and inner structure repairs discovered. Proper disassembly and repair analysis is vital to your vehicle being repaired accurately, safely and in a timely manner.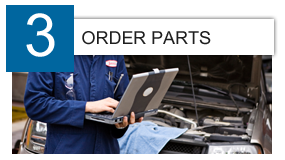 Order Parts:
After a thorough estimate is prepared, we will order the parts. We work with local, reliable vendors to be sure that parts are correct and arrive as quickly as possible. Once your parts arrive, our staff will review the purchase order to verify all parts are correct.
Structural Repairs:
Vehicles with frame damage begin in the structural repair department. A Master Technician uses a computerized measuring system to diagnose damage to your vehicle. We use factory data for your specific make and model to complete this evaluation.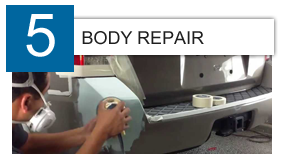 Body Repairs:
The body repair department replaces or repairs dents, damaged panels or parts. Once these tasks are completed, a Quality Control checklist is used to verify that all repairs have been completed and are correct.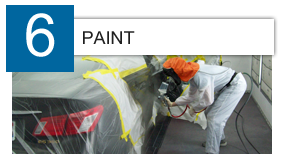 Paint:
Proper preparation is a critical step in the refinish process of your vehicle. All panels are prepped, primed and sealed so that an excellent adhesion is possible. Using our computerized mixing system, we mix only the amount needed to refinish your vehicle which is then applied in our state of the art, EPA approved, down-draft paint booth.
Reassembly:
After the refinishing process, parts and moldings are installed on your vehicle. Gaps and fits are double checked for accuracy. When needed, we will check the wheel alignment on our computerized equipment to make any adjustments needed to meet factory specifications. We again review the vehicle to make sure all repairs are completed, correct and quality checked.
Completed:
Completion Once we have approved the finished product, we prepare the paperwork and warranty information. We take pride in our quality of work and offer our customers a Lifetime Warranty on all repair work [excluding rust work and stone chips]. Parts, however, are backed by the manufacturer's warranty. We guarantee our workmanship as long as you own the vehicle. We hope your experience with Rutherford Auto Body is always positive and you will recommend us to your family and friends. Questions are always welcome.